My School Fundraising is MAGICAL & easy. The kids all "win" and everyone has a great time.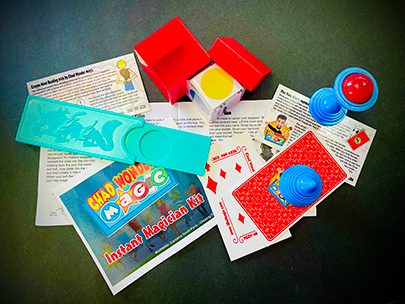 Your kids sell tickets to a fun Nickelodeon Award Winning Magic show, win a free magic kit for their efforts & everyone has a great time
That pretty much sums it up. Not a lot of paperwork and less stress for everyone. Plus, I have a handful of other ways to add value into the fundraising for the school. It's an easy choice…
While fundraising ideas for schools are legion and most effective, they often involve students selling door to door (or as I recall, me hard selling my family tubs of cookie dough and low-quality imported gifts on behalf of my kids), the only true winner was the company providing the product. Those companies usually state fundraising for schools teaches our children important habits and skills like teamwork, planning, accountability and goal-setting… and honestly, it does, but it "mostly" teaches them to be salespeople and to be disappointed when they don't hit their prize goal (which was my fault for not getting Grandma to buy more wrapping paper, but I digress). Call me and let's find a time to meet online or the phone and I can explain it all.
How much money can 350 Students Fundraise in one magic night?
$10.00 Student
$15.00 Family Ticket
Free MAGIC KIT for every student
$10 Student
$20.00 Family ticket
Free DIY magic fun for siblings
$10 Student
$25.00 Family Ticket
Everyone learns a fun trick too
$10 Student
$50 Family Ticket
School Magic Fundraising
Inconsistent and worse, inadequate funding for our schools has long burdened PTA/PTO volunteers and untrained parent volunteers with supplementing school budgets with fundraising. And since the importance of fundraising is tied to the value of our kids education by supporting our teachers and valuable programs, it's a necessity.
Fundraising for schools with magic is fun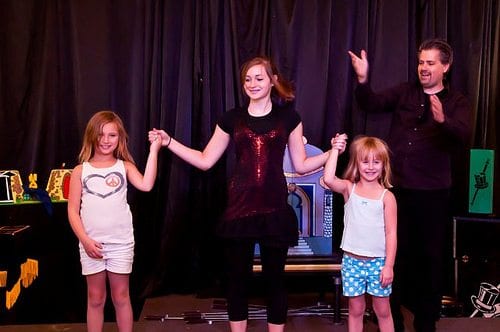 "I booked Chad on a whim, because my daughter really enjoys magic. He FAR exceeded my expectations. The kids did not want the show to end, and they even invited him to have cake with them (he really won over a tough group of ten year olds). Chad is an amazing magician, and understands his audience and tailors his show and jokes to the crowd before him. I cannot say enough kind things about him…"
"My sons' birthdays are a day apart, and so far, they enjoy celebrating, together. So I was a little concerned how Chad would handle 30 plus spazzy 7 and 9 year olds. But he had them literally captivated with his magic and totally funny quips (what 7-9 year old can resist bodily humor). Chad had the whole room joyfully engaged the entire party. Everyone loved the show, from the adults who were giggling to the kids who were guffawing. Chad's performance will be remembered by my sons as a truly magical performance. Bravo!"
"Chad put on a great show for our annual Blue and Gold Banquet for our Cub Scout pack. He was entertaining for kids and adults alike and he did a great job of handling a bunch of wild 6 – 11 year olds boys. Thanks."
"I was just writing to thank you. Just so you know, at first I was hesitant to hire a magician… You are amazing! Not only did you have the kids enthralled but the parents had a great time too! I have had numerous parents come up to me and tell me it was the best birthday party they had been to. Many of them were interested in hiring you for their kids birthdays. They were shocked at how reasonable you were – especially for the level of quality in your show. My son is the big cheese in his class because all of the kids thought it was the best birthday party they had ever been to as well. I cannot say enough how thankful I am to you for making my son's birthday memorable and fun."