Library Magic Show Pricing
Kids magic is an integral part of library programming and I've performed hundreds of amazing and educational library shows alongside over 4,000 hilarious birthday magic shows, family magic shows, school shows and scouts. As a nationally recognized kids magician and having won Nickelodeons Entertainer of the Year I'm Denver's best kids magician. I've even been penned as CBS' "Top Family Entertainer."
In 2002 I made a commitment to meeting the economic needs of everyone. If you can honestly say "the show is unaffordable" I'm happy to accept what you can afford. I do ask for a minimal amount to cover fuel and travel and some elements of my shows my be altered or not included.
If your district cannot afford my show, I always discount based on economics. ALWAYS
Amazing Library Magic Shows & Events
Just for Fun
Fun and Interactive non-themed magic
Hilarious, fun and interactive.

A bit of fun science explored and explained.

Encouragement to use please and thank you.

Free magic card trick for every kid.

Free downloads with learning materials.

Price is $299.00 for weekend events.

Eligible for Special Pricing above.
Spaced Out
Magic in the Stars
Hilarious, fun and interactive.

Space specific magic and backdrop (below).

Lots a discussion about our universe.

Zero gravity demonstration.

Appearing giant globe!

Free magic card trick for every kid.

Fun Spaced Out show background
Rabbits and Royalty
Stories and Tales
Hilarious, fun and interactive.

10′ fairy tale backdrop sets the stage (below).

Kids create the outcome of magical fantasies.

One child turns light as a feather.

Watch a frog turn into a prince.

Free magic card trick for every kid.

Featuring an awesome royal setting for the show.
Magic Classes
Lots of options
Society of Young Magicians endoresed teacher.

Age appropiate magic.

Focused on both execution (slight of hand) and the performance (showmanship)

Kids can learn from books and hands on… not videos!
Send me your info and I'll reach out ASAP with more details.
If you have any special needs to questions or want additional information please fill out the form and I'll be in touch shortly.
Let' have a fun magic show soon!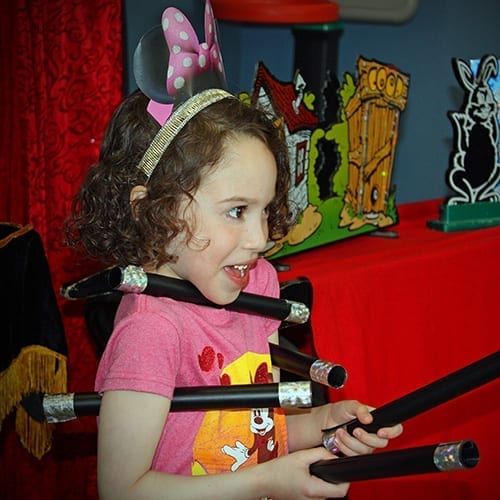 "I booked Chad on a whim, because my daughter really enjoys magic. He FAR exceeded my expectations. The kids did not want the show to end, and they even invited him to have cake with them (he really won over a tough group of ten year olds). Chad is an amazing magician, and understands his audience and tailors his show and jokes to the crowd before him. I cannot say enough kind things about him…"
"My sons' birthdays are a day apart, and so far, they enjoy celebrating, together. So I was a little concerned how Chad would handle 30 plus spazzy 7 and 9 year olds. But he had them literally captivated with his magic and totally funny quips (what 7-9 year old can resist bodily humor). Chad had the whole room joyfully engaged the entire party. Everyone loved the show, from the adults who were giggling to the kids who were guffawing. Chad's performance will be remembered by my sons as a truly magical performance. Bravo!"
"Chad put on a great show for our annual Blue and Gold Banquet for our Cub Scout pack. He was entertaining for kids and adults alike and he did a great job of handling a bunch of wild 6 – 11 year olds boys. Thanks."
"I was just writing to thank you. Just so you know, at first I was hesitant to hire a magician… You are amazing! Not only did you have the kids enthralled but the parents had a great time too! I have had numerous parents come up to me and tell me it was the best birthday party they had been to. Many of them were interested in hiring you for their kids birthdays. They were shocked at how reasonable you were – especially for the level of quality in your show. My son is the big cheese in his class because all of the kids thought it was the best birthday party they had ever been to as well. I cannot say enough how thankful I am to you for making my son's birthday memorable and fun."